Embrace midlife and embark on a journey of self-discovery: walk the Camino de Santiago de Compostella in the south of France and reconnecting with your authentic self
DID YOU KNOW THAT MIDLIFE DOES NOT HAVE TO BE A CRISIS?
Midlife does not have to be a stressful time. It can be a time of tremendous growth. You have to start doubting your identity, the meaning of life or your purpose in life. Midlife does not mean you are no longer attractive, that you have to start wearing boring clothes, that wearing make-up is a waste of time or that the physical side of your relationship will stagnate.
MIDLIFE CAN BE A Joyful TRANSITION, A TIME RIPE WITH OPPORTUNITY, A new beginning, A SECOND SPRING, A renaissance.
SUMMARY
Teethering on the edge of a midlife crisis? When was the last time you took some time out to reflect on what you want from life? In your twenties? What are your priorities, your values, your viewpoints, your dreams, your skills, your talents, your achievements, your interests, your motivation, your beliefs, your regrets, your limitations NOW?
Walking the Camino de Santiago de Compostella has provided answers to midlife questions for the last 800+ years. Today, people from all and no religious persuasions walk the Camino to reconnect with themselves, with others and with nature – and you can too.
A warm welcome awaits you, for 5 or 7, 10-day Midlife Renassance Retreat, in an authentic 200-year-old French farmhouse near the Camino de Santiago de Compostella amidst the Saint Mont, Armagnac and Madiran vineyards in the sun-blessed southwest of France!
Hundreds of thousands of women from all walks of life make their way to Santiago de Compostela via one of the pilgrims' routes each year. For most, it is the perfect antidote to a midlife crisis. It is an enchanting and enlightning experience. Few return home unchanged.
Walking the Camino is hard work – unless you choose to do it during this retreat. Everything will be taken care of for you. You do not have to fret about where you will sleep each night – you will sleep in the same comfortable bed each night. You don't need to lug around a heavy backpack with all your belongings every day – you will be taken to the start of the walk each morning and will be picked up at the end each afternoon. On your return after a hard day's walking a hot/cold shower awaits as well as a healthy, home-grown and homemade meal – all YOU have to do is concentrate on experiencing everything that walking the Camino has to offer.
If you choose the 5-day retreat, you arrive in time for dinner on Day 1, walk the Camino on Day 2, 3, 4 and leave after breakfast on Day 5. After your walk, you will have the opportunity to visit a local wine seller, where you can sample some of the best wines the region has to offer.
It's very easy to get here – Fly or take the train from where you are to Bordeaux or Toulouse. Toulouse is the easiest to access from here. From Toulouse there is a train to Auch, from there a bus to Nogaro. Or there is a train from Bordeaux to Mont de Marsan, and then a bus to Nogaro. You can also take a taxi from Mont de Marsan/Auch to Nogaro. Or get a lift on BlaBlaCar.fr. The easiest option is to pick up a hire car in Bordeaux/Toulouse. You can also fly to Pau/Tarbes-Lourdes/Biarritz. The best website for planning your trip is Rome2Rio.com.
The Midlife Crisis retreat can be combined with the Detox Your Body, Detox our Mind Intermittent Fasting Weight Loss retreat.
.
INTRODUCTION
Maybe at this moment in time, you feel an urgent need to get away from everything and everyone to find a place where you can quietly think all this over.
A midlife crisis is often triggered by:
A death in your family/of someone close to you
An aging parent that now needs your physical/emotional care.
An empty nest – your children have all left home and lead their own lives now
Retireing and feeling useless and without a purpose.
Going through the menopause
Asking yourself, "Is this all there is"? and feeling dissatisfied
Noticing that you are getting older: you need reading glasses, you have less energy, wrinkles, gray hairs start appearing etc.
Feeling stressed/anxious/irritable/depressed is perfectly during midlife is perfectly understandable. It is easier to take stock, to meditate and to evaluate your current situation somewhere peaceful, with support from other women who understand what you are going through, who have the same questions as you have and who have to cope with the same physical changes as you do.
To help women avoid a midlife crisis, I created the Midlife Renaisance Retreats to offer a sanctuary to women struggling with the challenges and changes of midlife, to give them time away from the stress and demands of their daily lives so that they can think about who they want to be and where they want to go in the second part of their lives.
Midlife is the perfect time to:
Take time out to take stock
Look back at what you have achieved so far
Look forward at what you want to achieve in the second part of your life
Reconnect with who you really are, with what is most important to you
Get rid of anything and anyone that no longer serve a purpose in your life
Find yourself a trustworthy mentor/role model
Re-create yourself and redefine your goals
Walking the Camino de Santiago de Compostela gives us the opportunity to take time out to re-explore who we are and what we want. Some of us may find that we are way off course, others may only need to make a few adjustments and yet others may barely notice that they are going through a midlife transition.
During this retreat, you will find out how to
deal with midlife stress/demands more effectively,
dramatically increase your self-confidence,
thrive on midlife change and challenges,
re-discover and re-define your purpose in life and
gain a solid understanding of who you are now.
talk to other women, also at midlife. I always rejoice in the benefit women get from the presence and support of like-minded women, the lasting friendships that form, the readiness of women (who may in their normal lives never have the opportunity to honestly express themselves) to say what they really feel, in this safe environment to sympathetic listeners. They may start by just talking to each other a bit, sharing their impression about the retreat's activities, but soon, especially after the first experiential learning session with the horses, they open up to each other, quickly finding common ground, common challenges and shared joys. Talking with other women, and discovering that they have as much trouble coping with stress, even if the cause of the stress is different, is infinitely reassuring. Offering and receiving support is another great stress management technique, women with sympathetic listeners as friends, who they feel they can trust, deal with stress much more efficiently than those who do not have such a support network.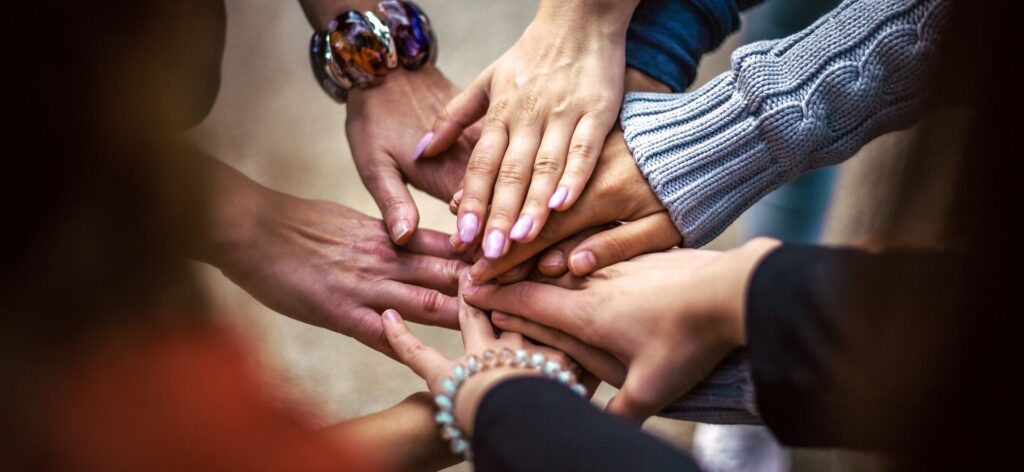 Who should attend?
This Midlife Renaissance Retreat is for middle-aged women wanting to avoid a midlife crisis: women of all shapes and sizes, all religious persuasions (or not) and all sexual orientations who feel overwhelmed by the demands of midlife, whether you are pre-, proper- or post-menopausal.
When to attend, how long to attend and costs involved
We are open year-round, but the best time of the year to come and walk the Camino de Santiago is in spring or autumn. You choose the amount of you-time you need, 3, 5, 7, 10 or more, the choice is yours, either in group format or on a one-to-one basis. The cost of your retreat is loosely based on a 140 euro per day charge, so 699 euro for a 5-day retreat in a shared room – this includes accommodation in a shared double room, brunch and dinner (except on day 4), wifi access and transport to and from the Camino. Private single rooms are also available (see below.)
If you would like to find out more about the midlife crisis retreats, or would like to make a booking, please send an e-mail to welcome2gascony@gmail.com or click on the button below. Your privacy is crucially important to us, your e-mail address remains your personal property.
.
Only a limited number of participants will be able to attend a Midlife Renaissance Retreat every year.
To ensure everyone gets individual, quality attention and the time to ask questions, I limit my groups to a maximum of 6 guests and I host a limited amount of retreats per year – which mean you will need to reserve early to be one of the few fortunate ladies who come here this year.
What is included in this retreat:
4 nights accommodation in an authentic half-timbered French farmhouse in the heart of the Cotes de Gascogne wine region in the south-west of France
Scrumptious local food for brunch and dinner – except day 4 (when we eat in a local restaurant to boost the local economy post-COVID)
Free transport from Nogaro to the venue, to the restaurant and to the begin- and endpoint of the day's walk
Wifi connection
What is NOT included:
Transport costs to local airports and train stations – there are 4 international airports (Toulouse, Bordeaux, Biarritz and Pau) less than 2 hours drive from here.
Transport from local airports to local train stations (Auch and Mont de Marsan)
Transport from local train stations to Nogaro
Personal Health Insurance and/or Travel Insurance (we highly recommend insurance cover in case you need to cancel)
Alcoholic drinks
Dinner on Day 4. We have this meal in a local restaurant to boost the local economy post-COVID (cost 15-30 euro, depending on your choices.)
Optional extras to make 100% sure you benefit from this retreat:
To facilitate transport arrangements or if you would like to arrive a day or two early, maybe to explore the cultural, historical and gastronomical treasures of the Gascony region, we offer accommodation we offer bed-and-breakfast accommodation on a day-to-day basis, at 79 euro per room per night, but only to our retreat guests,
Massages (if availability allows)
45 minutes motivating hypnotherapy sessions
Program
Day 1: Arrive after 18h00, in time for a scrumptious welcome dinner
Day 2: On the first day, guests walk the Camino de Santiago de Compostella from EAUZE to MANCIET. This section is about 10 km (6 miles) long and takes about 2,5 – 3 hours to walk. The walk meanders through woods, vineyards, meadows, orchards and sunflower fields from the Roman and cathedral city of Eauze towards Manciet, a small market town with a beautifully preserved lavoir.
Day 3: On the second day, guests walk from MANCIET to NOGARO. The route continues past an ancient church that once belonged to the Order of the Knights of Malta and an 18th-century milestone with a Maltese cross to Nogaro or Nogarium, which means 'a place planted with walnut trees.' This small town was established in the 11th century and has a fine Romanesque church. The walk takes about 2,5-3 hours to walk and is about 10km (6 miles.)
Day 4: The third day's walk is from NOGARO to AIRE SUR ADOUR. The full walk is (28 km 17,4 miles) but we guests can opt for a shorter walk (10 km or 6.3 miles) if they prefer. The shorter walk takes 2-3 hours to walk, the longer walk 5-7 hours. The walk is fairly flat: Nogaro is at 100m above sea level and Aire is at 80m above sea level. The path passes by several ancient farmhouses, along the vineyards towards Lanne-Soubiran and onwards towards Barcellone-du-Gers, a small town adjacent to Aire. From Barcellone the scenery changes, The vineyards give way to trees: oaks, pines and chestnuts until one finally arrives in the beautiful town of Aire-sur-Adour, on the mighty Adour river.
Day 5: Leave after brunch.
.
None of the walks is particularly strenuous. There are no steep hills to clamber up nor deep valleys to scale down, but a certain level of fitness is essential to be able to walk for several hours a day. So is a pair of decent, well broken-in walking shoes. The route is very well indicated. The walk is self-guided, but if anything should go wrong, help is just a phone call away. The daily program is adjustable according to weather conditions.
Daily
09:30 Brunch
10:30 Transport to the Camino
11:00 Walk the Camino with brunch where and when ready
15:00-17:00 Pick-up at end of the day's walk (one day will include a visit to a local wine seller)
17:30 Writing Meditation
19:30 Dinner
Enough free time is available for relaxing and recharging your batteries. None of the walks is mandatory. If you prefer to skip an activity and just relax and read quietly in the garden, you are more than welcome. The program is not set in stone and might be adjusted according to outside temperatures.
Accommodation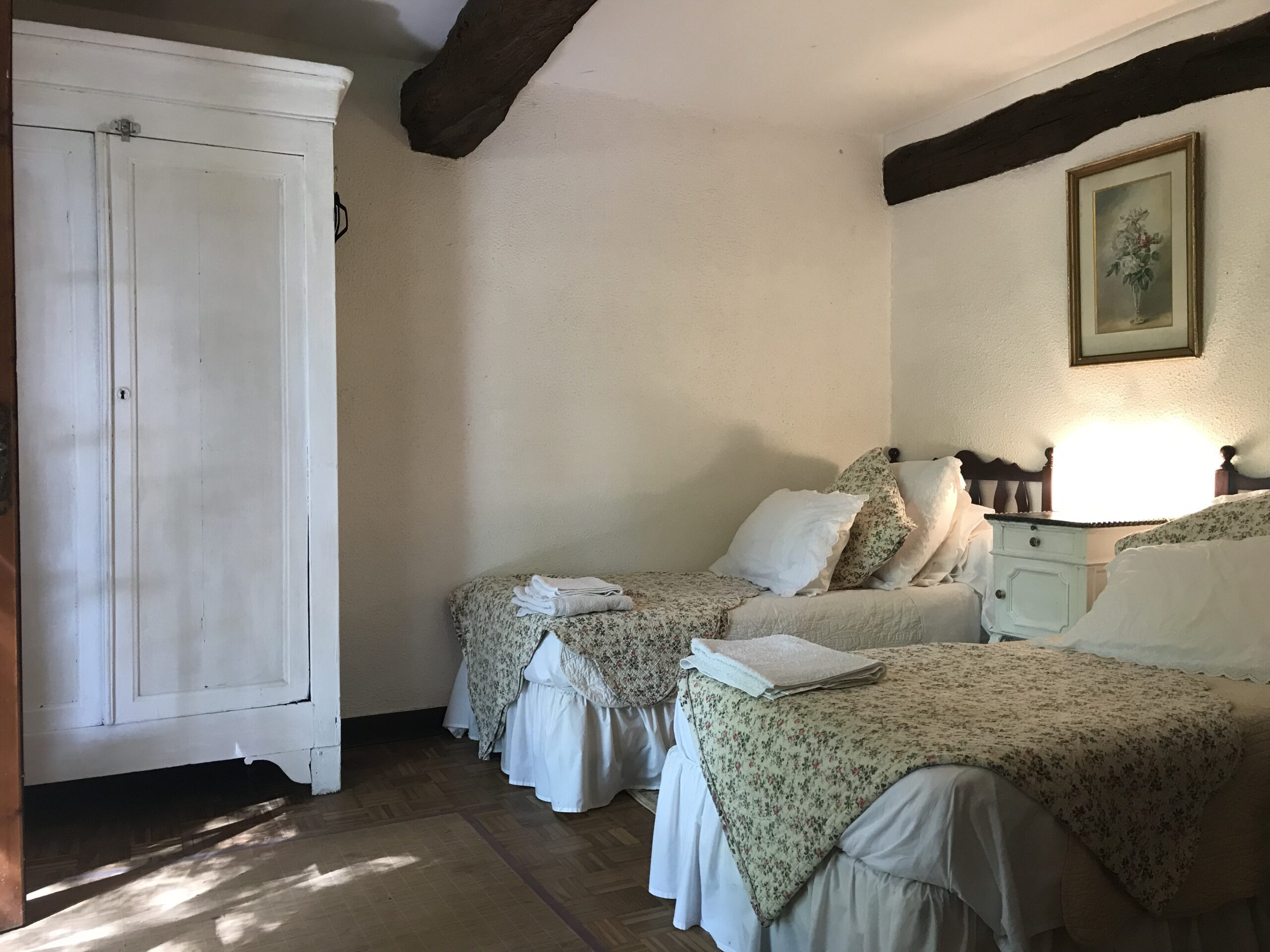 The Gastronomy of Gascony
Our food is simple but delicious and we aim to give your digestive tract as much of a rest as the rest of you while feeding your body as well and as generously as your mind. Meals are a celebration of the wonderful variety of fresh local produce available from our garden as well as from the local weekly fresh food markets. On Sundays, you can attend a Made-with-Love Breadbaking Ceremony and on Thursdays, you can attend the Fresh Food market in Eauze, one of the best markets in our region.
Retreat Host Dr M Montagu
"After working for 20 years as a medical doctor in a variety of specialities including psychiatry and general practice, I came to the conclusion that many diseases have their roots in my patients' inability to handle stress effectively. Instead of treating stress-related illnesses, I decided to look at practical ways that my patients can use to prevent stress from ruining their health. I am also a woman at midlife and I fully understand the trials and tribulations a midlife transition can involve, not only on my own account, but because I have treated many menopausal women during my career. These days I am less into medicating the menopause and more into mindfulness and meditation as natural coping strategies.
I studied a number of alternative therapies including hypnotherapy and NLP, and eventually combined my education and experience to create the transformational virtual and residential retreats that I host in the south of France."
Dr M Montagu MBChB MRCGP MedHypDip NLP Master Cert Prof Life Coach Cert Counseling CertEAGALA Cert
Do you feel stuck in a midlife rut and desperately long to escape?
If you do, then a 5/7/10 – day Midlife Renaissance Retreat here in the sun-blessed south of France might be exactly what you need right now.
Cost
The cost of this 5-day 4-night retreat, as described above, costs 1999 euro in a single bedroom and 1499 pp in a double bedroom. Please enquire about longer retreats. Maximum of 6 participants per workshop. Our retreats start at 18h00 on the day of arrival to 11h00 on the day of departure.
---
So seize this exceptional opportunity to spend a few nights with here in the south of France NOW…to help you make your trip a special one, please let us know you are coming by making a reservation.
To make an enquiry, or to pay your deposit and secure your booking, please contact us with the dates of the week that suits you at welcome2gascony(at)gmail.com or click on the button below to inquire about availability.
.
Privacy notice
We take your privacy seriously. Your email address is not passed on or sold to any third parties whatsoever, you are not subscribing to any mailing lists and we promise to only use your details to contact you directly ourselves.
Deposit
To confirm your booking, a 25% deposit is required. Balance of payment is due at least 30 days prior to the start of your holiday. Please note: As our deposits are not refundable and our cancellation policy is firm, we strongly recommend the purchase of adequate travel insurance. Any cancellation received in writing up to 30 days before the holiday starts will result in a loss of 50% of the holiday price. Any cancellation made in writing less than 30 days before the holiday starts, or once the holiday has started, will result in a total loss of funds. Depending on availability, you can choose to transfer your booking to another date without incurring any additional fees. We reserve the right to cancel the holiday (if we do so your deposit is refunded in full).
Please read our terms and conditions