Treat yourself to uninterrupted, dedicated writing time!
Join us in the south of France where you will be able to write without distractions to your heart's content!
We all have a story to tell.
As writers, we are an introspective, often self-critical lot, who would like to make sense of life and if possible, help others to make sense of their lives too, with our writing.
During this powerful and possibly life-changing writer's retreat, you will find out how you can make this happen.
During the Write Your Story retreat, you will have the irresistible opportunity to write, without interruptions and distractions, amongst idyllic surroundings, in this unspoilt and forgotten part of the deepest rural south of France.
This writing retreat is different from other retreats. It's not just about writing. Of course, it's about improving your writing, finding your own voice, developing a regular writing habit, etc. but it is also about writing your own story to help you understand who you are and connect with the real you. It is about editing your own story in such a way that your past is empowering instead of debilitating. It is about enabling you to process and then incorporate challenging events in your past into your writing.
As a writer, what could be more important than making sense of your past and understanding how it shapes who you are?
"The stories we hear, the stories we tell and the stories we write, shape our identity. Our stories shape our futures."

Margaretha Montagu
The Write Your Story retreat's 3 steps are
Process distressing emotions and upsetting past events
Use the experience to enrich your writing
For inspiration, follow in the footsteps of great writers like Paolo Coelho, by walking manageable sections of the Camino de Santiago de Compostella pilgrim's route.
Who should take this retreat?
Anyone who has ever been told, "Wow, have you ever thought of writing a book about your life?!"
Anyone who has survived a crisis/tragedy and wants to make sense of it for herself/himself by writing about it
Anyone who wants to make their writing more authentic
Anyone who has always dreamed of walking the Camino de Santiago de Compostella pilgrims route for inspiration and follow in the footsteps of Paulo Coelho, The Pilgrimage (1987), Jack Hitt, Off the Road: A Modern-Day Walk Down the Pilgrim's Route into Spain (1994), Hape Kerkeling, I'm Off Then: Losing and Finding Myself on the Camino de Santiago (2009), Hemingway, Ernest, "The Sun Also Rises" (1926), David Lodge, Therapy (1995), Shirley Maclaine, The Camino: A Journey of the Spirit (2001), James Michener, Iberia (1968), Cees Nooteboom, Roads to Santiago (1996, English edition), Conrad Rudolph, Pilgrimage to the End of the World: The Road to Santiago de Compostela (2004) and Walter Starkie, The Road to Santiago (1957).
Each full day consists of one walking and two writing sessions:
A Walking Meditation – Many writers found inspiration to write best-selling books during the often life-changing experience of walking the Camino.
A My Masterpiece writing session – time to work on your own project: – your goal could be to write a certain number of words, edit a percentage of a manuscript, study an amount of research material etc.
A Change Your Story, Change Your Life writing session: re-write the story of your life – processing past trauma with the healing power of story writing – so that you can turn your experiences and emotions into a novel (fiction or non-fiction)
Last day: How to self-publish session – I firmly believe that now is the best time to publish your own book. I have self-published 5 so far, with another in the pipeline. In this session, I explain how I did it.
We are all born storytellers – this retreat will help you to tell your story in such a way that it will not only help you, but will help others too – whether you want to write fiction (mysteries, romance, horror, dystopian, young adult etc.) or non-fiction (memoir, biography, self-help etc.)
Your story matters.
Your story, in your own voice, can make a difference. By writing your story, you can share fear, frustration, sorrow and joy and find common ground with others so that you can connect and communicate with them.
On this retreat, you will discover how to:
Combine writing and walking to release writing blocks,
Process and use real-life experiences to enrich your writing,
Claim your own unique writing voice,
Relax and recharge your writing (and all other!) batteries
Self-publish your book
Do you long to write a book/screenplay, but you don't know where to begin? Or maybe you have lost your writing mojo? Or maybe you think you do not have any stories worth telling? This retreat will inspire you to write your story and empower you to incorporate a lifetime of experiences, emotions, characters, settings and plot twists into your writing.
Why should you go ahead and reserve a spot on this retreat? Because creating a coherent narrative of one or more past experiences frees you to be the author of your future. Processing our own emotions and experiences noticeably enriches our writing.
Even if you are scared that you will never write anything good enough to publish, if you never seem to be able to find 10 free minutes to devote to your writing, if you have been struggling for the last 10 years to finish your first book,
Now is the time to start taking your writing seriously.
What could be better for your writing than getting away from the endless demands of everyday life and investing all your time and energy in yourself?
Step 1: Choose the duration of your retreat – 5 or 7 days – the costs of the two options are
5-day Retreat: 999 euro (single room) 1999 euro (2 guests in a shared room)
7-day Retreat: 1199 euro (single room) 2399 euro (2 guests in a shared room)
Fees include accommodation for 4 or 6 nights, scrumptious brunches and dinners on full days with a welcome dinner of the day of arrival and a celebratory brunch on the day of departure, continuous wi-fi access, all writing sessions and transport to start and from the end of each walk. Retreats start from 18h on the first day and end at 11h on the last day.
Fees do not include transport costs to Nogaro, our closest town, nor personal health insurance and/or travel insurance (we highly recommend insurance cover in case you need to cancel.) We do offer a free pick-up service from Nogaro to the retreat center.
Step 2: Select Additional Options to make 100% sure you get the most from the Write Your Story retreat.
To facilitate transport arrangements, or to explore the region, you are welcome to arrive a day or two early or leave a day or two after the workshop – we offer bed-and-breakfast accommodation on a day-to-day basis, from 89 EU per room per night, but only to our workshop guests,
Non-participating partners are very welcome, there is a lot for them to discover and do in the immediate vicinity.
Optional Add-on: A relaxing, rejuvenating and reviving massage (additional fee and subject to availability)
This retreat is suitable for all levels of writers, from beginners to experienced, and for all types of writing. To ensure everyone gets individual, quality attention and the time to ask questions, we limit our groups to a maximum of 4 guests.
Step 3: Review your Travel Options
There are 5 international airports -Toulouse, Bordeaux, Biarritz, Tarbes/Lourdes and Pau all less than 2 hours drive from here. From these airports, you can travel to our two closest train stations – Auch and Agen – by train. From Auch and Agen stations, you can travel by bus to Nogaro, our closest town. We offer free transport from Nogaro to us.
The best website you can use to plan your trip is Rome2Rio.com (to consult up-to-date timetables, compare costs of different travel options etc.) Blablacar.fr is also useful and often very good value for money.
Step 4: Choose your Dates and inquire about availability
To secure your spot (don't delay, spaces are limited because of the need for social distancing!), select one of the options above…then, to help you make your trip a special one, please let us know you are coming by making a reservation. Please contact us with the dates that suit you at welcome2gascony(at)gmail.com – or fill in the form at the bottom of this page – and we'll confirm availability asap.
Step 5: To secure your Booking, pay your Deposit (asap, places are limited)
Once we have confirmed availability, you can secure your booking by paying a 25% deposit. The balance of payment is due at least 30 days prior to the start of your retreat. You will be sent all the information you need to pay your deposit by e-mail.
A warm welcome awaits you amidst the Armagnac, Saint Mont and Cotes de Gascogne vineyards in the sun-blessed southwest of France.
Make your next retreat your Best Retreat Ever: Subscribe to my Retreat Mailing List and download the 25-page e-workbook How to Choose the Perfect Retreat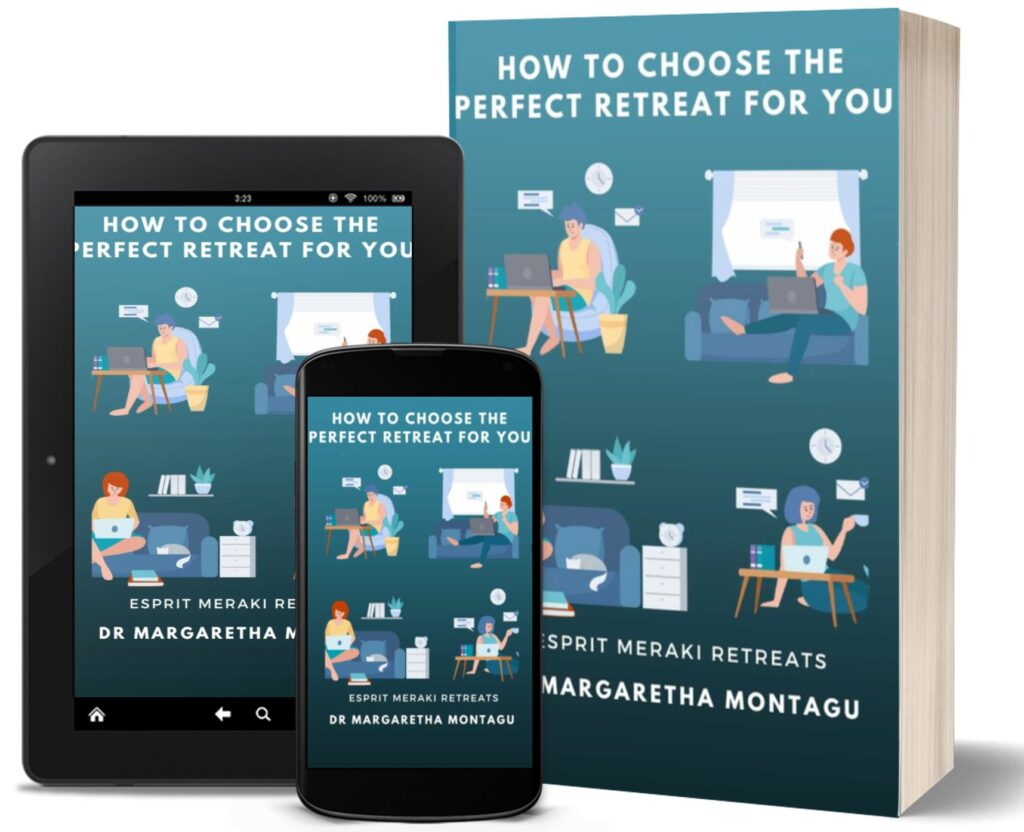 Please note: As our deposits are not refundable and our cancellation policy is firm, we strongly recommend the purchase of adequate travel insurance.  Any cancellation received in writing up to 30 days before the holiday starts will result in a loss of 50% of the holiday price. Any cancellation made in writing less than 30 days before the holiday starts, or once the holiday has started, will result in a total loss of funds. Depending on availability, you can choose to transfer your booking to another date without incurring any additional fees. We reserve the right to cancel the holiday (if we do so your deposit will be refunded in full).
Please read our Terms and Conditions