Best Books for Exploring the Connection Between Humans and Horses in Equine-Assisted Experiential Learning
Why should you read these books?
To find out more about the theories and techniques used in this approach and discover the benefits of these interactions with horses: increasing your emotional intelligence, developing your leadership skills, and improving your communication abilities. By interacting with horses, you can gain insights into your own behaviour and thought patterns, as well as develop a greater understanding of the impact you have on others.
Equine-assisted experiential learning can be a source of inspiration if you are looking for new ways to approach personal and professional development. You can learn about the transformative experiences of others who have experienced equine-assisted experiential learning and how it has positively impacted their lives.
Additionally, equine-assisted experiential learning is a non-traditional approach to personal and professional development, which can be particularly appealing to those who may not have found success with other methods. It offers a unique and engaging way to learn and grow that can be particularly effective for individuals who learn best through hands-on experiences.
Book List
"The Tao of Equus" by Linda Kohanov – this is the book that inspired me to search for a way to connect with horses on a deeper level and explore the possibilities of using this connection to help others. I also recommend "Rideing between the Worlds" and "The Power of the Herd."
"Horses and the Human Soul" by Adele von Rust McCormick and Marlena Deborah McCormick
"Equestrian-Inspired Wellness: Discovering How Horses Are Helping Humans" by Louisa Summer
"Horse Sense and the Human Heart: What Horses Can Teach Us About Trust, Bonding, Creativity and Spirituality" by Adele von Rust McCormick and Marlena Deborah McCormick
"Equine-Assisted Therapy and Learning with At-Risk Young People" by Hannah Burgon and Christiane Ketteler
"The Handbook of Equine-Assisted Therapy: A Comprehensive Guide to Principles and Practice" by Leif Hallberg
"Equine-Assisted Mental Health Interventions: Harnessing Solutions to Common Problems" by Kay Sudekum Trotter
"The Mindful Horse: How to Create a Joyful Bond with Your Horse Through the Power of Intention" by Kathy Pike
"Horse Wisdom: Insights from Horses and the People Who Love Them" by Lesley Bayley and Jane Myers
"Equine-Assisted Psychotherapy: A Clinical Handbook" by Tim Read and Liz Halliday
"Horses and Health: Understanding the Therapeutic Benefits of Horses" by Sharon Wilsie and Gretchen Vogel
"Equine-Assisted Therapy and Learning for Individuals with Autism Spectrum Disorders" by Celeste A. Miller and Christiane Ketteler
"EAL with Veterans and Military Families: A Guide to Healing, Recovery, and Growth" by Shelley Green and Cheryl A. Meola
"Healing with Horses: Mind, Body, Spirit" by Marlene J. Sperling and Carole S. J. Miller
"The Equine-Assisted Therapy Workbook: A Resource for Therapists and Clients" by Kendra J. Kidd and Monica A. Diedrich.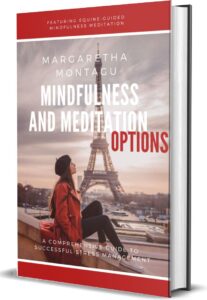 My book, Mindfulness Meditation Options, has a full chapter on walking meditation. Each chapter starts with a letter from a potential workshop participant, explaining her personal problems. Each chapter offers a potential solution based on mindfulness and meditation. You may even recognise yourself in one of the letters!
Escape the hustle and bustle of city life and join us for a life-changing equine-assisted experiential learning retreat with horses. This retreat is designed to help you disconnect from the stress and chaos of everyday life and connect with the present moment through the gentle guidance of Esprit Meraki's majestic Friesian horses.
Located in a serene countryside setting, in the foothills of the mighty Pyrenées mountains, our retreat is the perfect place to immerse yourself in nature and find inner peace. Your host, dr Margaretha Montagu, will take you through a range of mindfulness exercises, including equine-guided mindfulness meditation and equine-assisted learning exercises, to help you develop a deeper sense of awareness and connection with yourself, with others and with your surroundings.
During your stay, you'll have the chance to take part in a range of activities, including hiking part of the Camino de Santiago de Compostela in the surrounding countryside. This retreat is designed to help you recharge your batteries, connect with nature and find inner peace.
Don't let the stresses of everyday life get the better of you. Take the first step towards a calmer, more mindful existence by booking your place on our mindfulness with horses retreat today by sending an email to margarethamontagu@gmail.com. Dr Montagu will be on hand to help you every step of the way, so you can relax and enjoy the journey. Book now and give yourself the lasting gift of inner peace.
NB. The 5-day Horses And The Art Of Mindful Living: Finding Peace In The Present Moment retreats do not include equine-assisted experiential leaning.
To keep up with the latest happenings, last-minute offers and early-bird discounts, you can subscribe to my Savoir Vivre Vignettes Newsletter – fresh-pressed from the south of France.
Privacy notice: We take your privacy seriously. Your details are not passed on or sold to any third parties whatsoever, you are not subscribing to any mailing lists and we promise to only use your details to contact you directly ourselves. You can unsubscribe at any time.